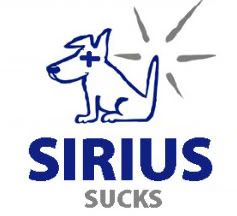 I cannot express how disappointed I am with the Sirius iPhone application. I've waited
months
for the realease of this application after Sirius and Apple killed the
Nicemac
app. I have been a Sirius customer for almost 3 years now and have been relatively happy with Sattelite radio as a whole. The only reason I got Sirius in the first place is because of
Howard Stern
. The app was release last Friday and guess what?
No Howard Stern
....Are you serious Sirius?? While the app itself is slick and workls nicely, the omission of Stern makes it almost worthless with free internet radio like
Pandora
and
Slacker
. Why would I pay for this when I can get a better selection for free? I pay because of the exclusive content of Howard. I called customer service this evening to voice my complaints and waited on hold for 36 minutes before I was able to speak with a supervisor. Unreal. I pay for 2 radios and internet radio and I am very close to cancelling. Without Howard or when he retires I will certainly cancel. This is exaclty what I told the supervisor who was sympathetic, but she blamed
Apple
completely for not having Stern on the app. She told me that Apple will not allow that type of content on their application. I'm not sure what to believe. I have been using
Pocket Tunes
for the past 3 months listening to Howard on the iphone and while the app is not as slick for Sirius as the Sirius iPhone app itself, it does the trick and you are able to listen to Sirius and Howard on it. I hope that someone at Sirius is smart enough to resolve this issue. This app could have boosted Sirius's stocks and saved a business that is being eaten by
free internet radio
. But instead the app is getting terrible reviews from users who are pissed that Howard isn't on it.